---
Kristiana's Sales Hack: Personalization & Building Relationships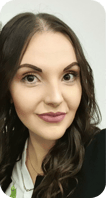 One useful sales hack is to personalize your outreach and communication with potential customers. Conduct research on the individual or company you are reaching out to and find out their specific pain points or needs. You can then tailor your messaging to address those key points and offer solutions that are relevant to their situation.
Also, one must be persistent but not too pushy. You can follow up with potential customers on a regular basis, but you have to be very respectful of their time and needs. It is good to focus on building a long-term relationship rather than just trying to close a quick sale. This has helped our team establish trust and rapport, which leads to repeat business and referrals, in addition to a stronger relationship.


---
etailinsights Power User Interview
Kristiana, what is your favorite restaurant where you're from and why
?
I just recently moved to America in 2022, from Belgrade, Serbia, where I had a favorite restaurant. It's a place called Bela Reka, which literally means 'white river'. They make traditional Serbian food with ingredients from a small village in the southern mountain region. This way, they help their local economy grow and in return, the restaurant makes the most delicious meals that gained them a Michelin recommendation.
What drove you to begin a sales career in eCommerce?
eCommerce sales roles often involve working with top-notch technologies, such as CRM software, marketing automation tools, and data analytics platforms. I have a techy background and was always interested in technology and its application in business, and as such - this can be an exciting field to work in.

Also, eCommerce is a fast growing industry with lots of opportunities for career advancement. I wanted to move in a direction where I could individually grow and also help businesses grow by using my abilities to enhance their customer experience and improve their brand.
How does Tandym help etailers?
Tandym's goal is to help merchants succeed by creating the most rewarding way for customers to pay and for merchants to get paid – the best of both worlds. 😊

With Tandym, merchants save up to 80% on payment processing costs and use the savings to fund valuable rewards for their customers. These rewards help merchants drive deeper loyalty and future purchases with their best customers. Tandym's solution and partnerships are a big reason why I'm now so passionate about eCommerce!
How are you using etailinsights to find eCommerce leads?
etailinsights helps us collect reliable contact information after we've identified our target market. Additionally, it helps us keep track of relevant prospects after creating lists that we can follow and update. We use the contact information from etailinsights to create a more personalized approach with potential customers as it gives us insight into their specific needs. The opportunity to filter companies based on unique fields is my favorite feature in etailinsights, enabling me to focus on the companies that match our criteria the best. It saves time and simplifies the process!
What is your favorite eCommerce Conference and why?
In our experience, Shoptalk does the best job of placing an emphasis on networking opportunities. Our team puts a focus on customer loyalty and retention, and Shoptalk offers us a great opportunity to connect with the right people at the right brands to better understand how we can continue to meet their needs.