---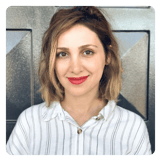 Mariam's Hack: Ask the right questions
There is not really one sales hack, but one of my favorites is asking the right questions. Our ability to provide the right solution to our prospects depends on the questions we will ask. If we form our questions correctly, they will lead us where we want to go. Sometimes we get carried away with the conversation, focus on the things that are not important. We forget to ask the most important questions to determine our prospects needs, pain points, whether we are dealing with the right person, or if there is a fit between our companies. Doing prior research about the prospect and writing down our questions can help prepare for our call or meeting. Also, it's better to ask questions rather than make assumptions.
---
etailinsights Power User Interview
Mariam, what is your favorite restaurant in Los Angeles? And, why?
The Perch rooftop restaurant/bar in Downtown LA. It has good food, music and a great view.
What drove you to begin a sales career in eCommerce?
I worked in different verticals before, but none are as exciting as eCommerce. There are so many opportunities in eCommerce and so much learning to do. It's constantly evolving and it's exciting to be part of that process.
How does Annex Cloud help etailers?
Since 2010, Annex Cloud has provided more than 250 leading brands, manufacturers and retailers, including Hewlett-Packard, Bed Bath & Beyond, Sugarfina, e.l.f. Cosmetics, Brahmin, Jenni Kayne, Olympus and VF Corp., with the ability to engage tens of millions of their customers one-to-one at scale. Annex Cloud's customer marketing platform for both B2B and B2C provides fully integrated Customer Loyalty, Referral Marketing, and User Generated Content solutions that seamlessly work together to optimize the customer journey and deliver a unified customer experience, a greater quantity and quality of referrals and content, and more high-quality and resilient customer relationships.
How are you using etailinsights to find eCommerce leads?
I use etailinsights regularly to find leads for my email campaigns. I start by creating lists based on industry, location, online revenue and by title. Once I create my lists, I save them and export for our CRM. etailinsights is great for learning about the technology the company uses and their trends. It also helps you find the key people you need to reach out to.
There are so many interesting eCommerce Conferences, but I think one of my favorites are IC Summits since they are small enough to get high quality 1-1 conversations with prospects. They always have interesting panels to learn about industry trends and interact with industry leaders.