---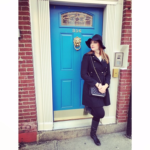 Know yourself as a salesperson and the industry that you sell to, and rock it! Time management skills are important, and don't be afraid to put yourself out there and network. And you can't forget to use the best sales enablement tools such as etailinsights!
---
etailinsights Power User Interview
Sarah, what is your favorite restaurant in Boston and why?
My favorite restaurant in Boston would have to be Lolita Cocina & Tequila Bar. It's a little hidden gem in the Back Bay area with Mexican-inspired eats and a lengthy tequila list. It also features gothic decor with dim lighting – perfect for a date night or a night out with your girlfriends!
What drove you to begin a sales career in eCommerce?
My love for online shopping, of course! More importantly, it is an ever-evolving industry that truly makes an impact on our day to day lives (I caught myself buying cotton balls online because traffic was too much). It just goes to show the way people are shopping is changing.
How does Yottaa help etailers?
To put it short and simple: we accelerate eCommerce sites reducing page load times on all devices which directly has a positive impact on conversions. We are solving a major problem in the industry that simply no other technology can do. We mitigate the loading issues of 3rd parties, high res images and javascripts to allow you to keep and continue to add these rich shopping experiences and keep an accelerated site performance – in less than two weeks with no code change.
How are you using etailinsights to source eCommerce Leads or build a Directory of Online Retailers?
etailinsights allows me to run more targeted campaigns, especially if I want to focus on companies having a specific eCommerce platform, etc. I am also able to find the correct point of contacts, so I know I am spending my time wisely and can cater my messages. Not only with contacts, but with retailers who would be a perfect fit for Yottaa!
IRCE, of course! It is one of the biggest eCommerce conferences where innovative ideas are shared, and it's a great way to network and truly showcase the value of your technology.