---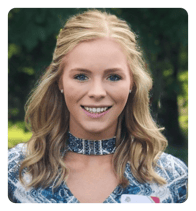 Morgan's Hack: Use a personalized approach to connect with prospects
My sales hack is to approach each conversation with a current or prospective retailer as a way to get to know them and their business on a more personal level and to use alternative avenues of outreach to your advantage.
Gone are the days of cold call sales pitches and mass non-personalized emails being highly successful sales tactics. Merchants want to share details about themselves and their business, so never pass up the opportunity to learn more about the business and contact to create a more personalized approach going forward. In today's world, people are skeptical of almost everything. Everything seems to be a trap or a gimmick and our goal in sales now is to combat this by being authentic and real instead of giving an automated and robotic pitch.
Today's merchants are also taking advantage of social media like Instagram, Linkedin and Facebook in a very vital way to their business. Reaching out on these platforms allows the merchant to see a bit of who you are instead of being a faceless voice behind an email or phone call. Never underestimate how opening yourself up to them will in turn allow the merchant to be more open to you and receptive of what you are trying to pitch in return.
---
etailinsights Power User Interview
Morgan, what is your favorite restaurant in Columbus, Ohio? And, why?
My favorite restaurant in Columbus is Lindey's in German Village! The area is such a great part of Columbus to walk around and explore. Their patio is an absolutely perfect spot for brunch and their steak is my favorite dinner in the city.
What drove you to begin a sales career in eCommerce?
I initially entered sales because I have always been intrigued by the retail space as well as the fast-paced transition that world has made to modernity and accommodating the changing needs of millennial shoppers. The start up culture of Klarna, mixed with their innovative approach to the eCommerce space, has only increased my interest in learning more about eCommerce and the trends of today's market.
How does Klarna help etailers?
Klarna helps etailers by supplying them with a resource that gives their consumer immense buying power. Millennial shoppers now make over 60% of their purchases online and 67% of millennials don't have a credit card. Klarna allows etailers to offer their customers the ability to buy what they need now and pay later over time while avoiding all the stereotypical fears of credit debt or long drawn out hassles. We love being able to provide merchants with increases in conversions as high as 44% and AOV as high as 58% while also giving consumers the smoothest shopping experience possible!
How are you using etailinsights to find eCommerce leads?
The entire US commercial team at Klarna uses etailinsights to obtain vital information on our merchants. Etailinsights' ability to give us information on yearly revenue, location, and eCommerce platform allows us to first and foremost qualify merchants to see if they would be a good fit for Klarna and thereafter allows us to walk into pitches highly educated on the needs of each merchant. In addition, etailinsights' list of contacts for merchants gives our commercial team a wonderful base for initial outreach that leads to connections and referrals. This is not to mention the plethora of knowledge on each merchant's social media presence etailinsights provides that allows us multiple channels of outreach to pursue. Overall, our team highly depends on etailinsights to effectively reach and accommodate each merchant!
Shoptalk is my favorite eCommerce conference because of its ability to bring retailers ranging from startups to established brands together with tech companies, investors, analysts and media to collaborate and set the tone for the next year of innovation in the eCommerce space.