---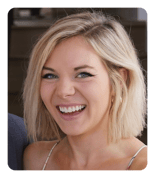 Holly's Hack: Building rapport
It's no secret that people buy from people they like. Which is why developing a relationship with a prospect prior to the sale, or the ask, is super important. Sure, sometimes you'll catch someone at the right place and at the right time, but overall it takes time to build the trust it takes to say yes. Do your research on LinkedIn, find unique pieces of information about a prospect or mutual interests, and weave it into your outreach. They'll appreciate the time and care you put into getting to know them and will (hopefully) want to return the favor.
---
etailinsights Power User Interview
Holly, what is your favorite restaurant in San Francisco? And, why?
I only moved to San Francisco in October of 2019, so I'm still getting a lay of the land. But by far my favorite restaurant has been Hinodeya Ramen in Japantown. They have the best vegan ramen!
What drove you to begin a sales career in eCommerce?
Moving to San Francisco, I knew I wanted to get into tech sales. This is the place for it and there is so much to learn. But what I loved about eCommerce specifically is that it is a space that I understand as the customer and the opportunities for growth are endless. Businesses are becoming more and more eCommerce based, especially now, which makes it an exciting time to be in the space!
How does Bolt help etailers?
Bolt provides an Amazon-like checkout experience that is made for both desktop and in mobile. The process as we know it has been the same for too long and we specialize in perfecting the checkout space by cutting the process in half, providing a faster, simpler and more seamless experience and by integrating complete fraud indemnification. We also enable a one-click checkout for repeat purchases!
How are you using etailinsights to find eCommerce leads?
etailinsights provides a one-stop-shop for relevant information on an account. Instead of using multiple tools, I am able to find the tech details, prospect information, and additional insights in one place which saves time and effort while prospecting and qualifying. Also, it tends to be the most up-to-date source of information, which is more valuable than you would think. Because of this, it allows me to sound more credible on phone calls and the qualification process is much more efficient.
Unfortunately, I haven't had the opportunity to attend one yet and everything was put on pause due to the pandemic. However, when I first joined Bolt, eTail West was happening and really sparked my excitement and made me realize how huge the conferences are.