---
David's Sales Hack: Be your genuine self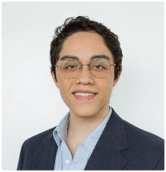 It isn't that deep. I think as salespersons, we sometimes forget to be ourselves and feel like we need to recreate a perfect, stereotypical sales persona and we leave our personality at the door. When I reach out to a prospect (whether it's on the phone or email), I like to personalize my pitch by adding a cheesy play on words using either their company name, mention I spoke to their colleague before getting transferred to them, etc. It is still important to keep it short and to the point, but short doesn't need to be boring. This will break the mold of sales pitches everyone is used to hearing and will hopefully lead to a more natural conversation. If it doesn't, at least you will make your prospect smile and leave them with a positive feeling about your company, product or service.
---
etailinsights Power User Interview
David, what is your favorite restaurant in Atlanta and why
?
Jinya Ramen Bar is the best ramen I've had in Atlanta. Mamak Mediterranean cuisine off Buford Highway is also incredible. I would recommend making a reservation for that one.
What drove you to begin a sales career in eCommerce?
It is no secret that the internet is critical for any business. The further we move into the future, the more I find myself using the internet for anything and everything, especially for ecommerce. Two years ago, amid the pandemic, I had this realization after seeing the rapid growth the eCommerce space experienced. I began working my way into retail sales which led me to eCommerce sales, which led me to Act Bold Media Group where I continue to learn more about the constantly evolving environment of eCommerce.
How does Act Bold help etailers?
Act Bold helps etailers by implementing healthy organic growth tactics for their eCommerce sites. We are experts at helping companies stand out from the crowd to establish a lasting online presence. Our full-service digital marketing agency provides web design & development, local and national SEO campaigns, and PPC management. Our strategic approach to SEO, methods for making intangible metrics tangible for our clients, and operating at a month-to-month basis without locking our clients into long term contracts is what makes us entirely different from other agencies.
How are you using etailinsights to find eCommerce leads?
EtailInsights has been a great tool for sourcing leads. I love the extensive customizable filter feature that allows me to focus on specific industries. Being able to sort by online sales, location, and eCommerce/shopping cart is extremely helpful in developing leads and learning key information about a business before reaching out. I have been able to create several different types of lists and searches that allow me to be more effective with my daily prospecting. I also love that you can save executives and add them to lists to make following up easy.
What is your favorite eCommerce Conference and why?
I have yet to experience my first eCommerce Conference but have heard great things about retailX and am looking forward to attending in 2023.