---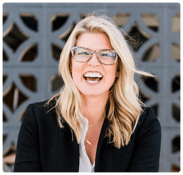 Ashley's Hack: Be Yourself
The true sales hack is be authentic, be yourself. It's that simple.
As you're building relationships in your prospecting, sales, and account management efforts, people are going to gravitate toward authenticity. It's so important to build trust with people, and if you confidently know a prospect can benefit from your product or service, you are more likely to build trust with the picture you want to paint by displaying genuineness from the beginning of your relationship. And authentic genuineness simply comes from being yourself.
---
etailinsights Power User Interview
Ashley, what is your favorite restaurant in New York? And, why?
In NYC, it's Ess-a-Bagel because they make the best bagels, hands down… In my current home city of Boise, it's RamaPong because their Ramen is amazing, and you get to play ping pong while you wait for your meal!
What drove you to begin a sales career in eCommerce?
Honestly, right place, right time… The opportunity to work for Doddle came to me at the perfect time and I as a consumer understood the need for our solution.
How does Doddle help etailers?
At Doddle, we believe in the lasting impression. Our solution enables retailers to make the last experience simple and delightful for their customers, while lowering costs (I know it sounds too good to be true but it is!). Whether they're using our freemium Returns Portal or our Returns Kiosk, retailers are bettering the customer journey, while gaining valuable insights into returns data and lowering their overall costs.
How are you using etailinsights to find eCommerce leads?
We use etailinsights to better understand our target customers. From what technology a retailer already has in place, to who we should be speaking with specifically. The data is never ending. We've developed campaigns off of what platforms retailers use - having this insight into our prospects' has ensured our messaging is relevant. This tool has also helped us effectively set meetings, prior to conference attendee lists being available, by giving us a wholistic view of decision makers at each company.
I attended Shoptalk for the first time last year and it was really eye opening. I would say currently that conference (including Groceryshop) has been my favorite. Retailers are interested in finding new solutions and they don't seem swamped with meetings or overwhelmed like at other conferences.