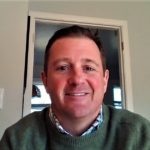 Ryan's Hack: Localize Your Prospecting
I can't say enough about localizing your prospecting. We have sales people in major markets including Arizona, Texas, Illinois, and Colorado. Being able to call on a prospect and tell them you're located within driving distance is huge. With all the sales calls that etailers receive, it's important to put a face with a name. Plus, knowing you're close gives them some comfort that if they do decide to work with you they have a local "throat to choke."
---
etailinsights Power User Interview
Ryan, what is your favorite restaurant and why?
Pequod's Pizza. They serve a pan pizza that has a crust that's lined with cheese. Oh my gosh...it's delightful.
What drove you to begin a sales career in eCommerce?
I sort of SLID into a career in eCommerce sales via paid search. About 10 years ago, I worked for a company that was generating leads through various channels, with paid search being one of them. Wanting to know my "art," I started to study up more about search engine marketing which led to me getting Google AdWords certified. The more time I spent learning about search, the more I realized that eCommerce was the area I wanted to work in.
eAccountable offers a customized and strategic approach to online marketing by working with our clients on seeing the entire marketing picture and how every part of the marketing funnel effects the next. With one of our main services being affiliate marketing, we have to look at paid search, for instance, to help us drive more sales. So, if paid search isn't getting the best results, we have to have some understanding as to why and then consult our clients on how to fix the issue(s). That's why our project managers who are in charge of overseeing the affiliate campaigns are also Google Certified.
How are you using etailinsights to source eCommerce Leads or build a Directory of Online Retailers?
etailinsights plays a few roles for us, starting with the prospecting side of our sales process. We've identified the ideal prospects based on factors like online revenue, so right from the beginning we use etailinsights to help narrow the field. Then throughout the sales process, we continue to utilize information from etailinsights as it pertains to the prospects' platform. Are they using Google Analytics? What kind of shopping cart are they utilizing? All this helps us figure out how we can work within the prospect's current infrastructure.
I like IRCE for a few reasons. First and foremost, it's conveniently in my hometown of Chicago. I also like the size of the show and the access to great speakers and content.