And Hollywood says, "Where'd who go?"
Without a doubt, my favorite movie as a kid was Top Gun. I knew all the lines to the movie. My Gramps (J.B. Pierce) flew in fighter jets in the Marine corps (actually, he was a "gunner"), and he gave me his old helmet. I had an Atari joystick. I'd parlay these into a re-enactment of Maverick's attack on Russian jets over and over. Sometimes I'd let Ice Man get shot down.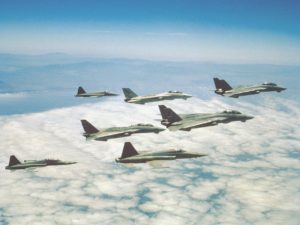 One of the greatest scenes is in the middle of the movie. After Mav / Goose gain radar lock on their instructor's plane in a training exercise, they return to the locker room to see how all the other teams performed. They are under the impression everyone won, but Wolfman and Hollywood actually only lasted 30 seconds before getting locked by instructors. Wolfman's recount is epic:
Wolfman: Thirty seconds. We went like this, he went like that. I said to Hollywood, "Where'd he go?" Hollywood says, "Where'd who go?"
My friends and I use this line whenever there is a complete breakdown in communication, someone goes to the wrong place, we lose someone, etc. Sometimes we say it for no reason at all. We often shorten to "where'd who go?" It really works for any situation, give it a try.
Have you ever scheduled a demo but your prospect went to the wrong place? They called your direct line, or maybe they were waiting for you to call them. Prevent the Wolfman / Hollywood epic fail with this trick below.
Sales Hack: Include Phone Number in Subject of Calendar Invite
You've done all the hard work already, you've gained your prospect's attention using a One-Two email approach, you've positioned consultative value, and now you're scheduling the demo.
Don't overlook the importance of the calendar invite!
It's critically important that you include the phone number (and access code) in the subject line of the calendar invite. Many people fail to do this – they put it in the "body" of the email invite. This requires your prospect to open the invite, and dig for a number.
Why?
Make it as easy as possible on your prospect. Put the number in the subject line so that it displays in their calendar. Five minutes out they can look and see "Oh this is a GoToMeeting, I need to login."
Additionally, with the uptick in smartphone usage, the body of your calendar invite is truncated (clipped). So, if you put it low, they may never see the number at all without clicking "more details."
And then, ten minutes after your demo starts and they aren't on the call, you'll be asking yourself "where'd who go?"
It's the small things that make a huge difference.
Bonus Hack: Make sure your "reminders" default to two of them, one popup (phone) and one email. I'm amazed how many people don't do this. If I'm at my desk and I don't have my phone out, I don't see the popup. If I'm on foot, I don't see the email. Send BOTH. It's not annoying it is helpful, I don't want to miss our scheduled call.
I hope these SaaS Sales Hacks are useful. If you think so, please share them on LinkedIn.