---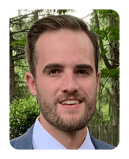 Will's Hack: Use etailinsights' 'First Detected' information to time to your prospecting efforts
etailinsights offers a feature called Technology Spy that I use regularly. Part of that feature includes the ability to see when an etailer first started using a technology. Knowing etailinsights' 'first detected' date of a competitor technology helps me understand if a prospect is ripe for replacement and when it makes sense to target them. Additionally, etailinsights' Advanced Search feature allows you to search a date range of when a competitor technology was first added. With that search feature, I can quickly build a target list around a technology's first detected date. Having the date of when an etailer adopted a technology helps me time my prospecting efforts efficiently and effectively!
---
etailinsights Power User Interview
Will, what is your favorite restaurant in Chicago? And, why?
Le Colonial ...the best Vietnamese in Chicago!
What drove you to begin a sales career in eCommerce?
I wanted to be in one of the most powerful retail segments. eCommerce is the future of many businesses and I enjoy watching these businesses pivot to new strategies as online shopping continues to grow over brick and mortar.
How does Reflektion help etailers?
We help shoppers find the right products at the right time while enabling etailers to personalize their eCommerce experience through AI-based search, recommendations, landing pages, content, etc.
How are you using etailinsights to find eCommerce leads?
I use this tool on a daily basis! The Chrome extension helps me quickly determine ideal prospects by evaluating online revenue, technology, location, decision-maker information all in one place. The list building feature is especially nice as I run many competitor specific campaigns. They need to be highly targeted based on which competitor technologies they are using and the data is some of the best I've seen.
IRCE/Retail X - It is one of the largest events held in the space and it is held in my city, Chicago! So many forward-thinking companies looking for their next investment to keep them on top in a competitive market.