---
Ronald's Sales Hack: Personalization is Key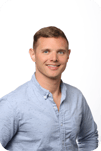 Obviously, we are all connecting on LinkedIn & emailing contacts, but I think "spraying and praying" is a thing of the past. Executives probably get 20-50 daily emails from solution providers, like us. If you are not confirming the contacts still work at the org and sending hyper-personalized emails, you will struggle, in my opinion. At ReaLift, we don't use automated sequences. We do everything manually, which is time-consuming but well worth it in the end. And if you can't think of how to personalize the message, should you email them in the first place?
---
etailinsights Power User Interview
Ronald, what is your favorite restaurant in Atlanta and why
?
Probably The Consulate. They change the menu every month. The employee of the month spins a globe, throws a dart, and the country it lands on inspires the theme for the next month.
What drove you to begin a sales career in eCommerce?
Accident. I always hated the thought of being in sales in college. I wanted to be a marketing executive, so I read a book on starting a marketing consultancy and then started an agency focused on eCommerce brands. That kind of threw me into sales, and I enjoy it. I think everyone is selling, whether it's to a prospect, investors, clients, or advocating internally.
How does ReaLift help etailers?
During my time at my old marketing agency, we found it very difficult to perform on the media side for apparel brands online. We called them "fly-by-night" customers because most would have an annual contract and move to another agency each year. When Visiture was acquired, I remembered this friction point. I did some research and found that only 17% of all apparel sales are online, and return rates can be 3x higher than that of a physical retail store. It dawned on me that a) we were fighting for a small pool of 17% of shoppers/apparel sales, and b) return rates drastically hurt our performance. After completing our own research, we found that sizing is the biggest issue. Shoppers struggle to pick the right size, which deters them from buying online. The vast majority of brands assume shoppers know their measurements or are willing to tape measure themselves and read a complicated size chart to pick the right size. Obviously, they are not (especially with free returns), and ReaLift helps to solve for this through size recommendations powered by augmented reality.
How are you using etailinsights to find eCommerce leads?
I used etailinsights at my previous agency, and it's fantastic. We have used larger data companies, and no one else could specifically profile eCommerce businesses to a good degree. We use it to find new apparel brands that we think would be a good fit for our platform, RealSize, and to source key decision makers in the org. We also leverage Technology Spy to find the right tech stack to integrate with.
What is your favorite eCommerce Conference and why?
eTail West, but I always loved Magento Imagine (RIP).