---
Jayson's Sales Hack: Own It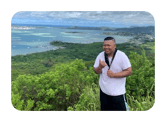 Don't be afraid to be different. Don't sound like every other salesperson. Own where you're from. I use the word 'Aloha' like crazy to let my clients know I'm from Hawaii and where I am from we treat each other with Aloha (love). It's nice to be important, but it's more important to be nice.
---
etailinsights Power User Interview
Jayson, what is your favorite restaurant in Las Vegas and why
?
The Buffet at the Wynn Las Vegas. Tomohawk steak that is grilled to perfection. High quality ingredients make all the difference in flavor. Almost every type of dessert you can think of. If you are on a diet, this is NOT the place for you.
What drove you to begin a sales career in eCommerce?
Relationship sales. I get to expand my network while expanding my knowledge on how to successfully run a business. I get to pick the brains of some the brightest and successful minds.
We remove the frustration of the day-to-day operations for distribution and contact center activities to help brands get to the next level and grow.
How are you using etailinsights to find eCommerce leads?
etailinsights is an excellent source to get the information you need to help prep you for a phone call. The information that helps me in particular is the contact information (ie: a client's title and direct contact information). With that information, you can tell the gate keeper exactly who you are reaching out to. The 2nd thing is the amount of orders shipped out on a daily basis as this gives an advantage on how to approach the business. If the business is on the smaller side, my mind set is to help this business grow and get to the next level. If the business is on the larger side, my mind set is all about reducing overhead cost and running the business more efficiently. Lastly, I leverage their LinkedIn info. This is a relationship business, so it is nice to know where the client got their education from, the different work fields they've been in, and a glimpse at their personality. All the information I receive from etailinsights, I use to my advantage.
What is your favorite eCommerce Conference and why?
I've only been in the eCommerce field for a short time, but I have attended NRF (National Retail Federation) a couple of times and gained valuable industry experience due to the fact that every aspect of retail and commerce is represented in one show.