---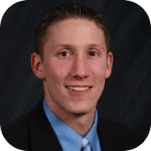 Nick's Hack: Make it an end-of-day habit to always look ahead to the next day.
It is so important to be mentally prepared in a sales role. With that said, a daily practice I follow is always scanning the next day's calendar. I typically do this at the end of the day or evening. That way, I feel confident going into the next day, and I'm mentally ready for what is ahead. This practice of preparedness has many benefits including confidence on calls, ample time set aside to research and learn about leads, and making positive impressions on prospects.
---
etailinsights Power User Interview
Nick, what is your favorite restaurant in Boston, and why?
224 Boston
. It's right near my house, has a laid back atmosphere, and the food is great.
What drove you to begin a sales career in eCommerce?
I sort of fell into it. I left the insurance industry for a software sales job at Experian in a position that focused on retail and eCommerce. After two years I was able transition the knowledge that I learned at Experian to Zmags.
How does Zmags help etailers?
Zmags helps overcome content challenges that can exist for a variety of reasons: limited bandwidth/development resources, restrictions to templates in their eCommerce platform, or just the desire to have more content speed and flexibility to drive conversions on their site. As a result of having this speed and flexibility they are able to create more interactive content at a faster rate, resulting in higher engagement and conversions.
How are you using etailinsights to find eCommerce leads?
I
use
etailinsights to filter out leads depending on what I am going to focus on. For example, I might want to focus on companies that sit on a specific eCommerce platform and I will
use
etailinsights to run a breakdown of companies in my territory that
use
that platform and target them accordingly. Another way would be if I wanted to target a certain vertical within retail (maybe fashion for example). The etailinsights platform makes it easy to get a quick high level view of your territory while also allowing you to drill into specific details.
ShopTalk. They always seems to attract great speakers and attendees. They also do a great job at coordinating 1 on 1 meetings between retailers and vendors at the event. Plus, who doesn't love Vegas?