---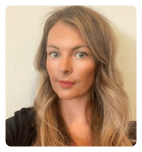 Chantele's Hack: The "No Demo" approach
In my experience, most of the sales pitches I've attended are typically in the form of a slide deck about the company, history of successes, or a full-blown product demo. I've learned that sales calls are not always designed for (or around) the prospect. That's why I am a big believer in a "No Demo" sales call. This doesn't mean that on sales calls, we should avoid a product overview, but instead strive to be more conversational. Take the majority of the time to understand the current challenges or pain points of each and every prospect. Use that information to position how your solution can help solve these problems.
Do you need a fancy slide deck to do so? Maybe… it will largely depend on the audience. If so, be sure to tailor the presentation to include specific use cases that resonate with the prospect versus a detailed overview of each and every feature your solution offers. Should we share our screen? Of course, there will times when you will need to share your screen, but you should understand your product well enough that if you cannot share your screen, you're still able to showcase your product clearly.
By spending the majority of your time focusing on the prospect's specific needs, you will gain a better understanding of their goals, level of commitment, and ultimately reduce the time it will take to close deals.
etailinsights Power User Interview
Chantele, what is your favorite restaurant in Colorado Springs? And, why?
Narai Thai. Growing up in Canada with a very diverse culture, I had the opportunity to experience all sorts of different cultures, cuisines, and foods. When moving to Colorado Springs, it was a challenge to find restaurants similar to those back in Canada. We stumbled upon Narai Thai and not only is it delish, but reminds me of home.
What drove you to begin a sales career in eCommerce?
I can't think of one job throughout my life that has not involved sales to some degree. I started selling when I was a little girl (6 years old to be precise). My parents owned furniture stores, and I began my sales career helping out in the stores - yes, even selling. My real career in sales began when I was in High School. Without aging myself too much here, I have probably been in sales for 25+ years. When I started at Searchspring, I didn't know much about eCommerce. I had shopped online for a few things here and there, but couldn't put into perspective how distinctly different traditional retail is compared to the eCommerce world (especially all the pieces that are needed to have a successful online store). It has become an obsession to learn and understand eCommerce. Roughly 10 years later, I am still continuously intrigued by the ever-evolving eCommerce industry.
Searchspring gives eCommerce teams superpowers by equipping online retailers with hyper-relevant onsite search results, intuitive filtering, and complete merchandising freedom for ultimate conversion optimization. Searchspring provides functionality that does not exist natively in the eCommerce cart to ensure shoppers can find the right products at the right time. The bottom line, Searchspring is a crucial component for any eCommerce store.
How are you using etailinsights to find eCommerce leads?
There are so many ways that etailinsights helps Searchspring efficiently source and qualify eCommerce leads. Our business development team uses etailinsights to quickly create prospect lists that align with internal business strategies. We can run lists based on a variety of factors such as online revenue, product count, and tech stack. This is one of the only tools on the market that truly is built for eCommerce and also allows for granularity. Our sales and partner teams leverage etailinsights to qualify accounts. We can quickly assess if a particular lead is qualified on paper and also evaluate the growth potential for other prospects. It is vital to our business to not only source out established brands and retailers, but also merchants who are rapidly growing.
Hands down, my favorite eCommerce conference is Magento Imagine, now part of Adobe Summit. The food and entertainment are always a delightful surprise, but overall I am always impressed with how organized this conference is.