---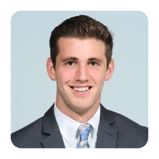 Patrick's Hack: Block your calendar
Block that calendar! It is important to stay organized and ensure that you are utilizing every minute of every day. I like to block off my cold call, prospecting, follow-up, etc. times to have a placeholder indicating when I should be moving on. This helps to stay organized and maximize results. Also, switch up those cold-calling/prospecting time blocks to different parts of the day to increase the chances of getting ahold of your prospects.
---
etailinsights Power User Interview
Patrick, what is your favorite restaurant in Minneapolis? And, why?
Wakame Sushi & Asian Bistro... It's been a favorite of mine for years and is one of the best/if not the best Sushi spot in the Twin Cities. They have a great late-night happy hour and patio seating for our long MN summers.
What drove you to begin a sales career in eCommerce?
I've been in sales for as long as I can remember. Whether it was selling golf balls that I found in the yard, or selling PlayStation games in our neighborhood garage sales - it has always been something I gravitated towards. I really wanted to get into the eCommerce space due to the ability to provide a product or service in an industry that has no boundaries, unlimited growth potential, and is validated (even more so in the recent months). eCommerce is exciting, always changing, and being apart of an organization that constantly adapts and excels in this ever-changing environment is something I was looking for!
How does Sezzle help etailers?
Sezzle helps etailers by increasing basket sizes, decreasing cart abandonment, and providing their shoppers with a consumer-friendly payment option that is interest-free and has no impact on their credit. Additionally, many etailers may use Sezzle as a marketing tool to drive more traffic organically without having to dip into their marketing spend or increase customer acquisition costs.
How are you using etailinsights to find eCommerce leads?
I use etailinsights daily and the entire sales team at Sezzle relies on etailinsights to generate new business. At a high-level, I use etailinsights to build reports and as my primary tool to find new prospects. The ability to drill-down by vertical, technology, competitor, revenue, etc. has been an essential sales tool and a huge asset to our sales team. I am still learning all of the nuances and features that etailinsights has to offer. One of my favorite features is the Technology Spy that will send me daily email updates on whatever (technology, competitor, etc.) I'm spying on. A small tip for those starting out with running etailinsights reports...make sure to flip Profile Type from 'Certified' to 'Any' to maximize your Advanced Search results. Without etailinsights my life would be a lot more difficult.
Unfortunately, like other power user interviewers for etailinsights, I haven't been to an eCommerce Conference. I'm looking forward to the potential opportunity in 2021!