---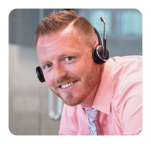 Erik's Hack: Be open to trying new things
Always be open to try new things. Being in both individual contributor and management roles, I've witnessed it from both sides. Those who are stuck in their ways and are unwilling to change will fail. I'm constantly looking for ways to improve my conversations to make the most out of each dial. I listen to my own recorded calls to check my tone, and to see how people respond to certain things I say. It's always easier to pick up on things afterwards when I'm not caught up in the actual conversation.
---
etailinsights Power User Interview
Erik, what is your favorite restaurant in Scottsdale, and why?
Bourbon and Bones. As a meat connoisseur, their food is amazing. The attention to detail in presentation makes the dining experience one to remember every time. Most importantly to me personally, it was the restaurant I was taken to by my leadership team when I got my first managerial promotion, so it'll always hold a little place in my sales heart.
What drove you to begin a sales career in eCommerce?
When I first started working, I was in a sales role because a friend referred me. I did pretty well, and then as I got a little older, I made the change to customer service in the financial industry, working for a couple larger banks. I learned a ton in those roles, especially when it came to listening to my customers' needs. It became very robotic after a while, and I missed the excitement of being in sales.
How does Webgility help etailers?
For companies using Quickbooks or Netsuite, we are the #1 accounting automation software. We help online sellers by fine-tuning back-office systems and processes. Ultimately, freeing up time once used on manual data entry, and increasing revenue and growth due to streamlined operations.
How are you using etailinsights to find eCommerce leads?
I like the flexibility of eTailinsights. Being in sales, I like to mix things up often, and the different search criteria within the database makes that possible. Whether that means selecting different technologies, or revenue sizes, I can always create new lists with a few clicks. I also like the new certified company reports that come out every so often. It gives me new contacts that should be in a good stage of growth to utilize our services.
Magento Imagine. They always seem to have great speakers, but on a personal basis, I love the opportunity to meet new people in the eCommerce space. I talk to people on the phone everyday, so it's nice to talk face to face with the people that we can help.