Cary, NC (FOR IMMEDIATE RELEASE)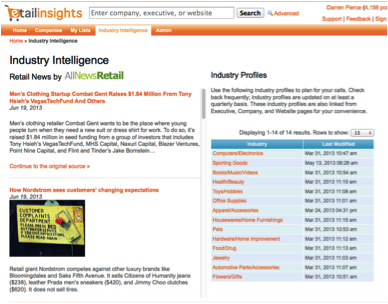 Staying up-to-date with the latest eCommerce industry news is an essential part of doing business for eCommerce solution providers. Now, etailinsights, a database company used by eCommerce vendors, has given clients a way to get the latest news right in the etailinsights application.
The goal at etailinsights is to provide everything sales teams need to target the eCommerce ("eTail") market while growing sales.
Clients have found etailinsights a must-have part of the sales process. Sales teams can gather and analyze the information they need to contact companies and start the conversation.
Now, etailinsights is happy to announce an additional feature in the etailinsights solution that provides users even more insight into the eCommerce market.
AllNewsRetail.com is a trusted source for news in the retail industry. It's a must-read online publication for anyone that needs to remain plugged into the retail industry. etailinsights has partnered with AllNewsRetail and integrated their news feed into the etailinsights application.
With the addition of the feed, etailinsights users will see the latest stories from the site right on their dashboard. It's a quick snapshot of the latest happenings in the retail industry. As sales teams check etailinsights for the list of daily contacts they can also check the latest headlines regarding trends and eTailer news.
"We're really excited about this feature," said Darren Pierce, CEO of etailinsights. "At etailinsights we like to keep our clients up-to-date with anything and everything happening in the eCommerce Industry. AllNewsRetail.com does a fantastic job of serving up relevant e-retail news articles. We're thrilled to have their news feed embedded in the etailinsights solution."
Bev Dantz, Editor In Chief and Founder of AllNewsRetail.com also shares Darren's excitement. "We are pleased to partner with etailinsights! The retail world is continuing to change at break-neck speed and those who can't keep up will be challenged. We've designed AllNewsRetail to help retailers stay on top of important news and events. Through our website, Flipboard magazine, Twitter, RSS, or whatever comes next, AllNewsRetail helps retailers stay smart."
About etailinsights
etailinsights is the leading provider of accurate contact information for online retailers. Founded in 2010, etailinsights helps eCommerce solution providers define their target market and execute strategies to grow revenue. The experienced research team knows the key information needed to accelerate sales, and researchers use proprietary technology to harvest and update contact level data. With over 100 satisfied clients and 30,000 records, etailinsights is the best way to empower an eCommerce sales team with the lead data they need.
About AllNewsRetail
AllNewsRetail, a Mirati Media publication, is dedicated to helping retailers succeed by delivering the most important and valuable retail industry information in the most useful formats. By curating and publishing retail-specific content from over 300 news sources, AllNewRetail is "A Better Way To Stay Smart."