etailinsights eCommerce Data and Sales Blog

Sales Hack: Use News Articles in SaaS Prospecting
posted by Darren Pierce
Start Spreading the News - You're Right, I'm Amazing!
I was recently sifting through old boxes of items from my parents' house, and I came across some old soccer trophies earned in my childhood. Many of them looked completely new to me, and I couldn't remember the tournaments we won or camps I attended. What I do remember are my teammates. All of them. I remember them all very well. Working on an elite team is the greatest feeling – you learn to trust and support each other. Sure, the team has ups and downs, wins and losses, but those aren't very memorable. The people, though, they stick with you forever.
But, this Sales Hack isn't about teamwork, it's about news articles. In that old box of trophies, I also found a stapled stack of green paper, photocopies of every news article from an undefeated soccer season. I don't remember that season, not even that we were undefeated, but I remember the players. Reading each article was joyful, remembering each teammate. And admittedly, I loved reading about myself! It's embarrassing to point it out, but I think we all enjoy reading about our accomplishments. I'm going out on a limb admitting this because I think we can learn something and apply it to our SaaS Sales process when prospecting for eCommerce leads.
Sales Hack: Use News Articles in SaaS Prospecting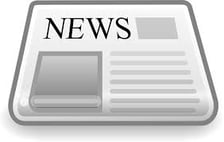 Yes of course, your prospects already know about the article you are going to send them. Send it to them anyway with a short note. In the note, make it clear that you actually read the article. Find something in the article you agree with, and point it out.
Remember, they went through a significant amount of work to have this news article created. Let them know people in the marketplace are reading it. Let them know that you truly care about them, and you are taking the time to research. You don't need to cram your own product pitch into this email. Simply point out the article, and note a job well done. It's easy to do, and you can do three of these per day in less than 10 minutes.
How?
The simplest way is to set up Google News Alerts for each of your prospects. These are free and easy to set up. Just make sure you check the box for daily summary (i.e. you don't want a ton of emails throughout the day). And make sure you put the full company name in "quotation marks," or else you will receive a bunch of articles that are irrelevant. Start or end your day by sifting through these alerts looking for three articles to read and send to your prospects. Three per day, 15 per week, 60 per month. You will be very pleased with the results.
[mc4wp_form id="7900"]