I'm Done!
In elementary school, most of us competed to finish tests the fastest.
Why? Simply because we were competitive about everything. And since we didn't know the grades immediately, the only way to determine who "won" was by completion speed. Tests in the 3rd grade were fairly easy, so my classmates and I tried to fly through them. And just to taunt the other students, the first student finished would whisper "I'm done!"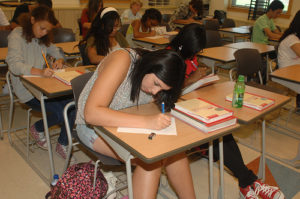 A game-changer for me was learning a shortcut for long division problems. My dad taught me this trick earlier than everyone else, but I'm sure you know it – carry the remainder, and write it above the number. But since no one else knew this trick, I was able to win the speed test for math in 3rd and 4th grade. Until they decided to force me to "show my work."
As a salesperson in eCommerce, time is your currency, and you want to spend it wisely. Shortcuts are key, and I have a good one to insert common text into emails.
Sales Hack: Create Custom Shortcut Keys
This works for Mac only, but if you use Windows or PC, here's a good resource for shortcuts.
All Mac OS software allows for the owner to custom create shortcut keys. For example, for a common introductory email that I write, all I need to do is type "asdf" then press enter, and Mac will auto populate that text.
Another example is when I want to insert my conference line into an email. Rather than having to type or look it up, I type my custom-created shortcut code into a calendar meeting invite or sales email. Here's how to do it:
Click Apple icon
System Preferences
Keyboard
"Text" button in the top navigation of popup
Click Plus Sign at the bottom of popup
Enter the shortcut text you'd like to use in left column
Enter the long version of what you'd like to populate
This should save you a significant amount of time – time I hope you can use to hunt for and help more of your prospects.
I will note this doesn't always work in some web applications. Mac OS restricts the auto population of some shortcut keys. This strategy works very well if you are using most any email client software, Notes, or other popular Mac Applications.